DOLORES is ADOPTED!
Gender: Female
Age: Approx. 7 years old
Size: Large
Shelter Resident for 1 year (Currently fostered)

Affectionate

100%

100%

Energetic

90%

90%

Kid-friendly

95%

95%

Likes other animals

50%

50%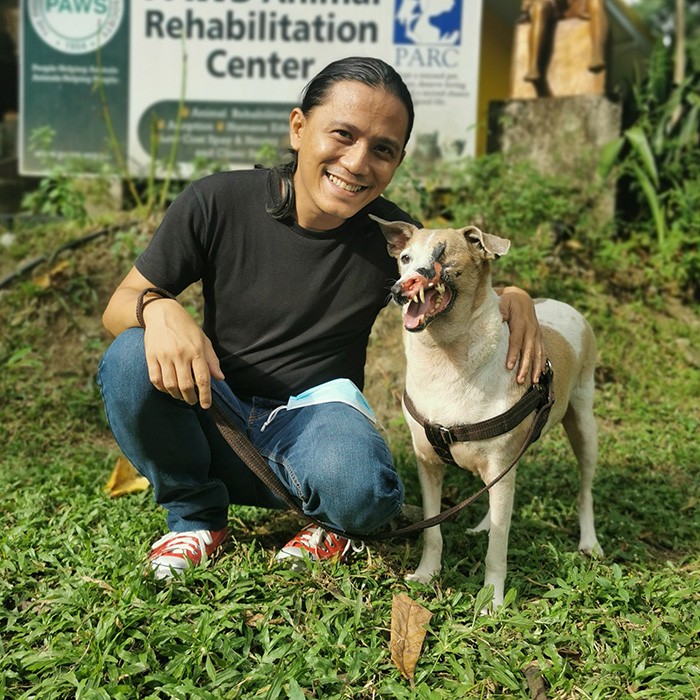 Dolores' Story
Dolores used to live in beautiful Boracay, getting by on food scraps left behind by tourists, and enjoying a carefree existence. That is, until someone decided to throw boiling oil on her face. This cruel act left her with half a face — everything on the left side is completely disfigured.
Thankfully, many came to her rescue. A vet performed first aid treatment until she could get transported to Vets In Practice in Mandaluyong, where she was treated for 4 months. She was aptly named Dolores, which means "aches" or "sorrows," because of all the pain that she had to endure.
Now in a foster home, her healing continues but she is once again the carefree, affectionate dog that she once was.
Ideal Home
Dolores hopes to find a family that will be prepared to give a big cuddlebug like her plenty of lap time and belly scratches. She is an affection hog, and doesn't like to share with other dogs. Her wound is quicky healing, but still needs regular cleaning. She doesn't mind it though, cause she is one brave girl!
INTERESTED IN ADOPTING?
All our adoptable animals are victims of cruelty or neglect, so we screen all applicants to ensure that they go to the right homes. If you think you can provide a loving home for this animal, let's get the process moving!
WANT TO SPONSOR?
If you can't adopt but would like to help this shelter animal, then you can be a sponsor! All proceeds go to their food, medication, and everyday needs. Many lives have been saved by small donations. Please keep supporting them!